[ad_1]
Spain's tourism sector is anxiously watching the surge in coronavirus cases across the country, raising fears of massive summer cancellations among foreign visitors. The Financial Time Wednesday published an article titled "Delta variant pushes Covid-19 rate in Spain to highest in continental Europe," and some regional governments have reintroduced restrictions while others are considering it.
The Spanish government expects around 17 million international arrivals this summer – only 45% of those who came in summer 2019, but three times more than in summer 2020. A record 83.5 million tourists visited Spain in 2019. By comparison, there were 3.2 million between January and May of this year, a decrease of 26 million compared to the same period in 2019.
A steady decline in transmission and a good rate of vaccination had fueled hopes for a reasonably successful summer season. But the current spread of the coronavirus among the younger, unvaccinated population raises fears of further restrictions on international travel that would result in the cancellation of reservations.
Spanish authorities noted that the peak in new cases did not lead to a significant increase in hospitalizations and that Spain's most vulnerable citizens are largely protected, with more than 42% of the population now fully vaccinated. The death rate is also among the lowest in the European Union. But the tourism industry continues to fear the effects of international media coverage on political decisions.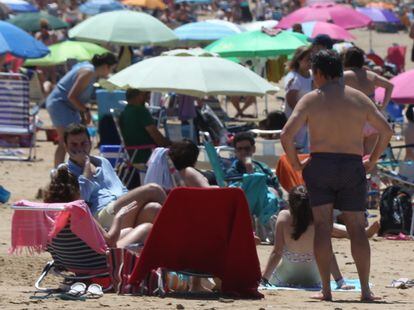 "It's dramatic, it's the worst thing that can happen to us. The image that is being projected is of great concern. It only seems like a matter of time before a return to restrictive measures, "said José Luis Zoreda, vice president of Exceltur, an industry group representing 33 major travel companies.
It may already be happening. Thursday morning, the French Secretary of State for European Affairs, Clément Beaune, made the following recommendation to French nationals on the France 2 television channel: "To those of you who have not yet booked your holidays, avoid Spain and Portugal as destinations.
The industry is now waiting to see if the UK will stick to its plans to end coronavirus restrictions on July 19. The UK government was due to provide further details on the quarantine requirements for fully vaccinated travelers returning from certain countries on Thursday. Mainland Spain is currently on the Amber List, which means returning visitors must be quarantined for 10 days, while the Balearic Islands are on the Green List.
The Spanish tourism sector is also concerned about Germany, the other major source of visitors to the country. There are fears that Berlin will adopt a policy similar to the one it has with Portugal and institute a quarantine for returning travelers.
If this happens, the travel industry will stay dry after 16 very slow months. "The delta variant represents a particular risk for economies more exposed to tourism," said Axel Botte, global strategist at Ostrum Asset Management.
For those of you who have not yet booked your vacations, avoid Spain and Portugal as destinations

Clément Beaune, French Secretary of State for European Affairs
After Spain raised its alarm in early May, holiday bookings began to increase. On June 26, they equaled the levels before the pandemic, according to the specialized site SiteMinder. While there haven't been any significant cancellations yet, bookings are slowing down. Sources from the Meliá hotel chain said the change came after a major epidemic among students vacationing on the island of Mallorca. "There are still reservations, but fewer than at the start after the UK announced it was including the Balearics on its green list," the source said.
Expectations also vary by region. In Catalonia, the uncontrolled transmission of the coronavirus has slowed down the summer projects of the tourism industry. "We need to send positive messages to the outside world," said Santiago García-Nieto, president of the Confederation of Hotel and Restaurant Companies of Catalonia (ConfeCat).
Industry leaders already believe July will not be as good as expected and are now focusing on the August and September savings. They also call on national authorities to redouble diplomatic efforts to explain to the world that Spain is a safe destination.
english version by Susana Urra.
[ad_2]