My next stop was Barcelona and Vueling offered a cheap non-stop flight at a convenient time, finally giving me the chance to try the budget Spanish carrier.
Vueling A320 Economy Class review
I booked a few days in advance for $169 which included one carry on and one checked bag. I could have booked a cheaper ticket for $129, but it would have only included carry-on luggage that fits under the seat.
I showed up at Dubrovnik airport about 90 minutes before my flight and found that it had been delayed for about 90 minutes…which made for quite a strenuous wait considering the lounge was closed, internet worked poorly and power outlets were scarce.
Finally, it's time to board my flight.
Vueling 7727
Dubrovnik (DBV) – Barcelona (BCN)
Saturday August 6
Departure: 9:00 p.m.
Arrival: 11:25 p.m.
Duration: 2h25
Distance: 838 miles
Plane: Airbus A320ceo (A320-200)
Seat: 2D (Business Class)
I had rolled the dice and hadn't paid to assign a seat and the system assigned me seat 5D, which was an aisle seat towards the front of the plane… Couldn't have asked for more .
Although Vueling does not offer a business class cabin, it does offer "Space Plus" seats in rows 2-4 (and "Space One" in the first row) which offer priority boarding and more space for passengers. legs. The seats are distinguished from regular seats by their black seat covers.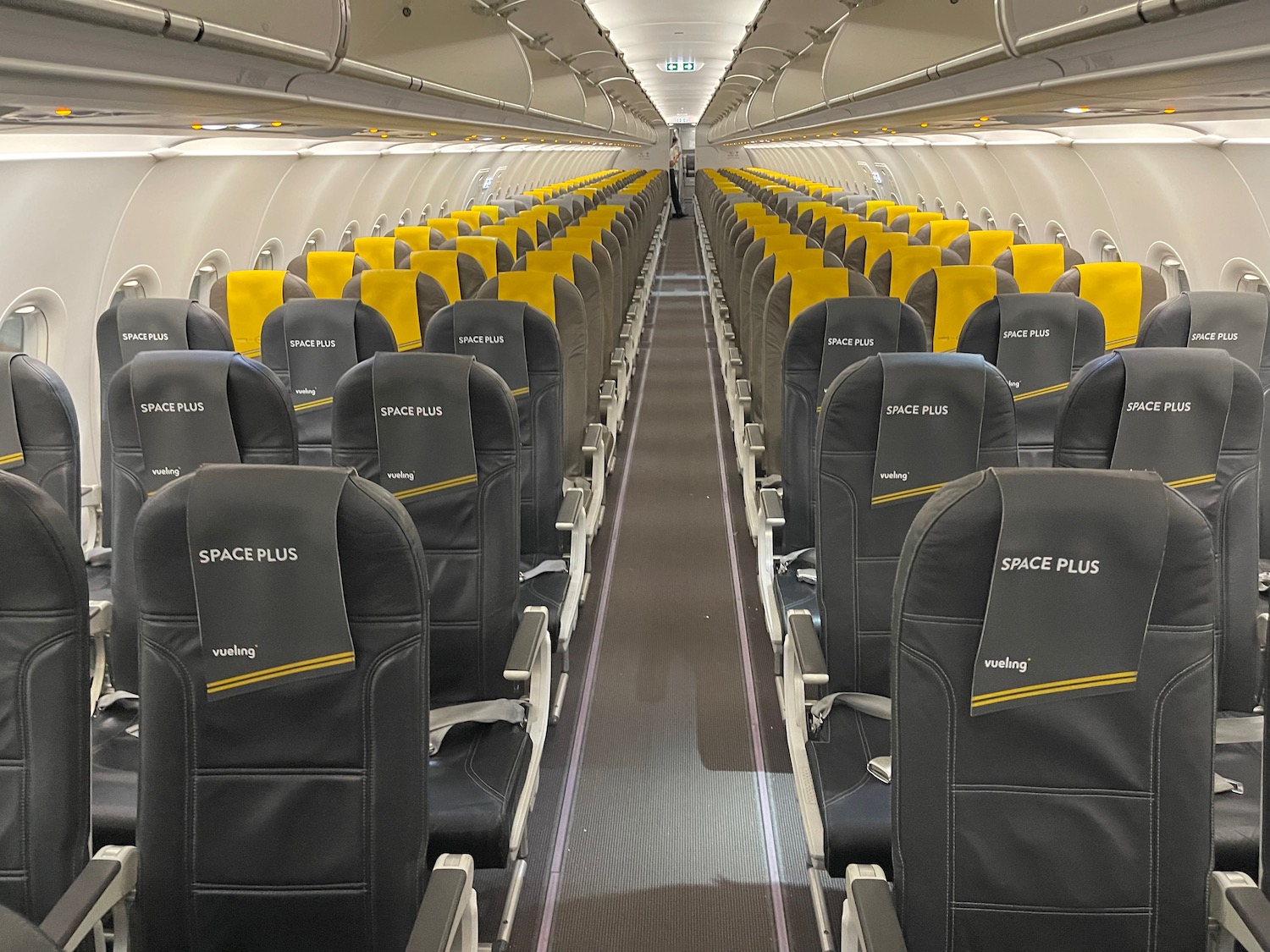 My seat was 29 inches pitch, 17.7 inches wide and did not recline. The padding is limited and it's definitely not a comfortable seat, but for the two hour flight to Barcelona it was bearable.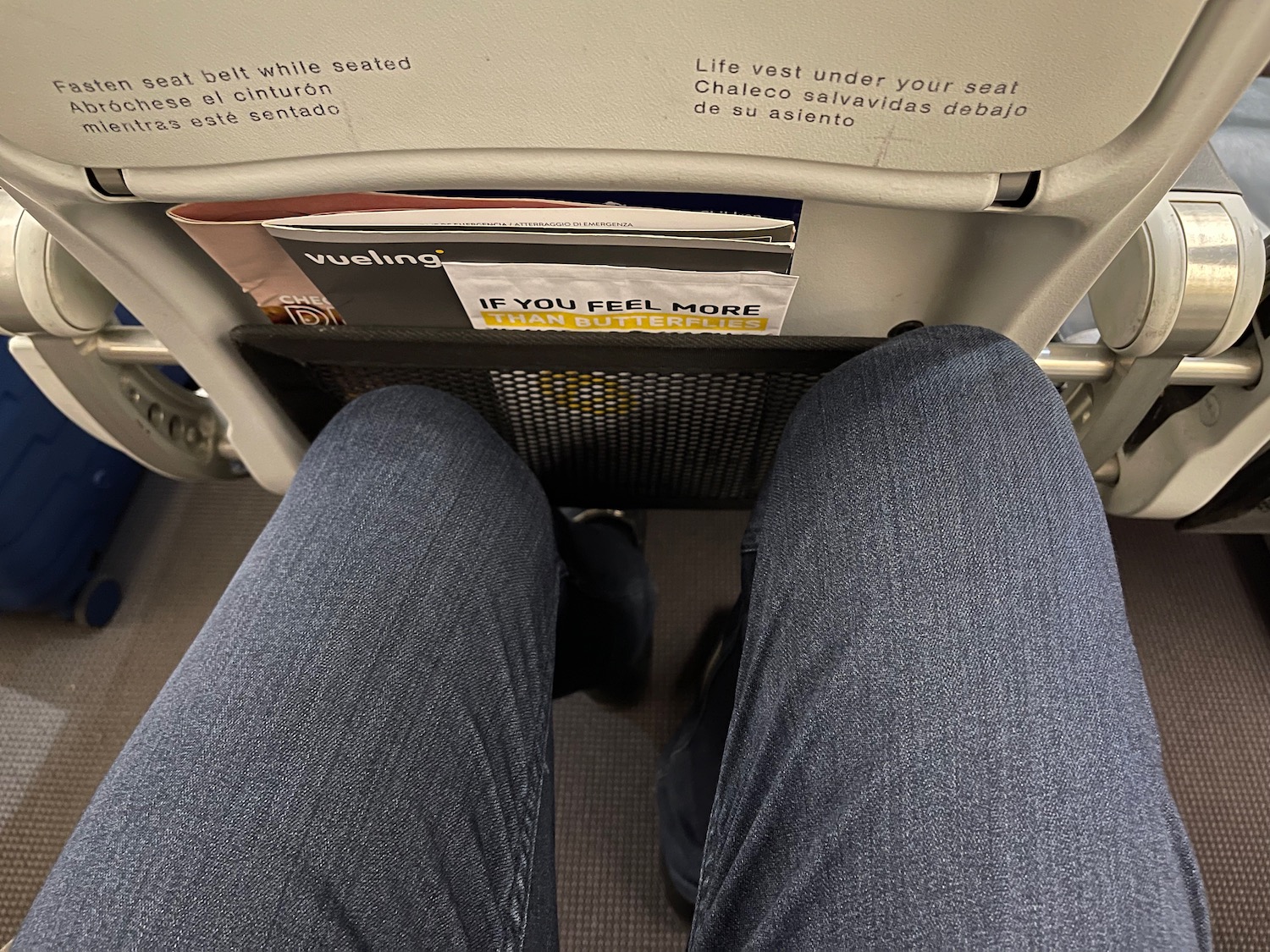 Each seat had a coat hook.
There are no power ports, but Vueling has added USB ports under the seats, which is another perk some full-service carriers still don't offer.
IFE + Wi-Fi
As a budget carrier, there are no seatback screens or overhead monitors, but Vueling became the first budget carrier to introduce wi-fi (in 2019) and seat covers. headquarters suggested that wi-fi and streaming entertainment were available.
Unfortunately the internet was not working. The network would appear, but it would not connect. I tried both my phone and my computer with no luck and my seat neighbors couldn't connect either.
While I appreciated the potential of the wi-fi, it was disappointing that the system didn't work.
Service
Staff were friendly on board, although absolutely adamant about masking. Most on board seemed Spanish and understood the exercise, so to speak, but a few lowered their masks and were quickly reprimanded.
Unfortunately, the crew was not so quick to reprimand a woman in the row ahead of me across the aisle who was watching videos on her cell phone without headphones and with the volume turned up during the flight (we will discuss this in a follow-up post).
Apart from the initial shopping service on board, the crew disappeared and only resurfaced just before landing when they ran trash through the cabin.
Food + Drink
Vueling offers a buy-on-board service, with all food and drink for purchase. I had browsed the menu before the flight and was looking forward to a hot serrano ham sandwich with salmorejo sauce, but was told it had sold out on the flight to Dubrovnik (do they use the same inventory during fast turns?)
I then asked for lasagna. Also outside (keep in mind I was seated in row five).
In the end, I opted for the pizza…which was a mistake. The pizza (€6) was soggy and hot on top and cold in the middle. I added a bottle of water for €3.
Bathroom
Although clean, the toilet needed a new mirror.
Remote Support
We landed at an isolated stand in Barcelona, ​​which I still feel uneasy about after the incident in Doha, and were transported by bus into the terminal, where immigration queues were minimal .
CONCLUSION
My first experience on Vueling wasn't great (late flight, soggy pizza, broken wi-fi), but flying nonstop made so much more sense than connecting in Madrid, Amsterdam or Frankfurt. I would fly Vueling again when the schedule and price made sense, but I would never go out of my way to fly Vueling.